UJV55-320
Yüksek performanslı geniş format UV-LED inkjet baskı makinesi
Yeni Mimaki UJV55-320 geniş format UV-LED inkjet baskı makinesi, eklenen eş zamanlı çift rulo basma özelliğiyle, 3.2m genişliğe kadar afiş, vitrin & sergi grafikleri ve benzeri uygulamaların yüksek hacimli üretimlerinde yüksek kaliteli, ultra geniş baskı sonuçları sunar.
Yüksek yoğunluklu baskı
Dahili LED lamba seti
Anında kuruyan boyalar
| | |
| --- | --- |
| Ultra geniş format baskı (3.2m'ye kadar) | Saatte 110m2'ye varan yüksek baskı hızları |
| Beyaz boya dahil, yeni geliştirilmiş LUS-120 yüksek performanslı UV kürlenmeli boya | Önden/arkadan aydınlatmalı uygulamalar için yüksek yoğunluklu baskı modu |
| Arkadan aydınlatmalı uygulamalarda baskı kalitesi kontrolü için dahili LED lamba seti | En iyi baskı kalitesi & performansı için MAPS, MFD, NCU & NRS teknolojileri |
| Eş zamanlı çift rulo basma özelliği | 100 kg'ye kadar rulo malzeme ağırlıkları |
Yaratın…
İç ve dış mekan tabelaları, sergi grafikleri, vitrin grafikleri, önden & arkadan aydınlatmalı tabelalar, POS ürünleri ve çok daha fazlası…
Specifications, options and supplies of UJV55-320
Specifications
Head
On-demand piezo head (4 printheads / in 2 staggered array)
Print resolution
300dpi, 600dpi, 900dpi, and 1200dpi
Ink droplet size
Minimum: 7pl Maximum: 36pl
Head gap (Manual adjustment)
1.7mm / 1.9mm / 2.6mm / 3.3mm
(Distance between the platen and the print head)
Ink
Type
LED-UV ink LUS-120
Colour
4 – Colour (C, M, Y, K) / 7 – Colour (C, M, Y, K, Lc, Lm, W)
Packaging
1 litre ink bottle, Ink can be filled up to 3 litres per ink colour.
Maximum print width
3,200mm
Maximum media width
3,250mm
(Twin rolls printing with a small drive shaft: 1,524mm × 2)
Minimum media width
210mm
Media thickness
1.0mm or less
Roll outer diameter
Large drive shafts: Φ250mm or less.
Small drive shaft with roll holders: Φ180mm or less.
Roll weight
Large drive shafts: 100kg or less.
Small drive shaft with roll holders: 25kg or less
Dimensions (W × D × H)
5,410mm × 995mm × 1,440mm excl. ink supply unit
5,680mm x 1,220mm x 1,440mm incl. ink supply unit
Shipping dimensions (W × D × H)
5,714mm × 1,136mm × 1,203mm
Weight
910kg
Power supply
AC 200 – 240V ± 10% 50/60 Hz ± 1 Hz, 18 A or less.
* 100V Power not available
Power consumption
4.3kW or less
Operational environment
Temperature
20 – 30 °C (68 – 86 °F)
Humidity
35 – 65%Rh (No condensing)
Temperature accuracy
20 – 25 °C (68 – 77 °F)
Temperature gradient
Less than ± 10 °C/h (± 18 °F/h)
Dust
0.15mg/m3 (Equivalent to normal office level)
Supplies
Item
Colour
Item No.
Remarks
UV LED Ink
LUS-120
Cyan
LUS12-C-BA-1
1L bottle
Magenta
LUS12-M-BA-1
Yellow
LUS12-Y-BA-1
Black
LUS12-K-BA-1
Light Cyan
LUS12-LC-BA-1
Light Magenta
LUS12-LM-BA-1
White
LUS12-W-BA-1
Flushing Liquid
FL007-Z-BA-1-KA
---


All UJV55-320 inks are GREENGUARD Gold certified.
Features of UJV55-320
Efficient and Versatile Twin-Roll Simultaneous Printing
Taking advantage of the 3,200mm printing width, two media rolls can be mounted for simultaneous printing. Different print jobs (or the same print job) can be printed on two separate rolls. The user can the preferred width separately for each roll, within a specified range (210 to 1,524mm).

---
Prevention of print quality problems – NCU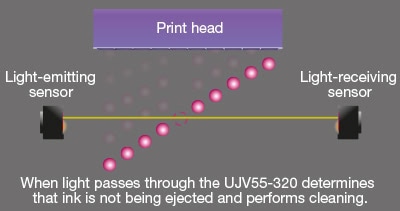 The UJV55-320 is equipped with Mimaki's original automatic NCU. Clogged nozzles are automatically detected and cleaned by the NCU. If the clogging is not resolved by cleaning, the UJV55-320 automatically sets the nozzle recovery function NRS and resumes printing. These functions significantly reduce the waste printing caused by clogged nozzles during a continuous printing run.

---
Productivity maintenance – NRS
The NRS substitutes defective nozzles with non-defective nozzles until the technician arrives. This feature enables uninterrupted print operations and continuous productivity.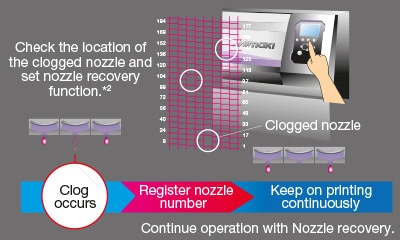 ---
Print quality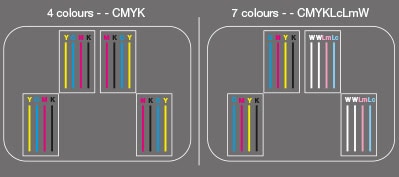 Improved print head configuration
Head configuration: Four print heads in a staggered array. 1 head: 1,280 nozzles (320 nozzles X 4 lines), Y C M K 4 heads: total 5,120 nozzles.







---
Beautiful output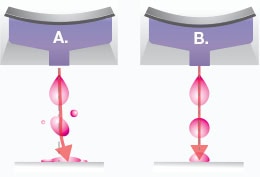 Waveform Control Technology
Ensures high quality print resolution, by jetting ink drops in straight lines with almost perfect round dots, delivering clear and sharp letters, lines and edges.
Figure A. Without waveform control
Ink droplets jetted in the shape of deformed circles
Figure B. With waveform control
Ink droplets jetted in the shape of nearly perfect circles
Superior inkjet technology
Delivers high density print by removing the gap between dots. Suitable for High speed mode.
MAPS (Mimaki Advanced Pass System)


Reduces banding by dispersing ink drops between passes.





---
Print Speed
Print Speed (White Printing)
In 1200x1200dpi print mode, max. print width is 2.7m
Estimated speed when printed on 3.2m wide media
If printed on 1.5m-wide media, print speed is halved
Print Speed (4-Colour)
Estimated speed when printed on 3.2m wide media.
If printed on 1.5m-wide media, print speed is halved.
Print Speed (7-Colour)
In 1200x1200dpi print mode, max. print width is 2.7m.
Estimated speed when printed on 3.2m wide media.
If printed on 1.5m-wide media, print speed is halved.
Click on the image for details.
---
Improved performance for backlit printing applications
White ink print enhancements
Printing on transparent media is made possible by the application of white ink as an under or over layer.
Day & Night Printing on Backlit Materials
Image 1: Colour & White & Colour 3 layers
Printing a white layer between coloured layers, ensures a consistent result whether illuminated or not.
Image 2: Colour & Colour 2 layers
If only 2 layers of coloured ink are applied, the resulting image is too dark when viewed in daylight.
Legenda images 1 and 2:
A1: Colour Ink, A2: White Ink, A3: Colour ink 2 layers, B: Transmitted lights, C: Media, D: Lights, E: Light Source



White ink circulation technology MCT (Mimaki Circulation Technology)
By periodically circulating white ink in line from tank to head, pigment deposition is prevented. MCT ensures stable production and reduction of ink discharge and waste.


Inline LED lightbox for backlit print inspection
Proofing while printing LED backlights illuminate printed media just after printing, reproducing a backlit signage application and ensuring immediate quality inspection.
No need to stop the printer to check
LED lights set in the space after print platen enabling immediate correction if errors occur
Saves time, ink and media
Colour temperature : 7,000 Kelvin
Brightness easily adjustable
LED lights can be removed from the printer
High 'Blockout' performance for backlit signage
A key feature of UV-curable ink is the thickness of the ink layer on the media, which enables much greater 'blockout' performance than other print methods. This is particularly beneficial in backlit signage applications where the ability to block out backlighting in certain areas improves overall illuminated colour performance and vibrancy.